INSPIRED BY HOPE
As REALTORS®, we have dedicated our lives to assisting thousands of Rhode Island families in obtaining the ultimate American dream of home ownership. For some families that dream is not easily obtainable. Through The REALTOR® Foundation: Rhode Island we are hoping to provide assistance to families that need help with rent, home repair and other housing related needs. However, our commitment to giving back goes well beyond housing related initiatives. Through various financial programs, scholarships, and community activities, it is our hope to enhance the quality of life within our communities by organizing volunteers and raising funds for local charitable organizations and/or individuals in need.
HELPING OTHERS
Our goal at The REALTOR® Foundation: Rhode Island is to organize volunteers and raise money for both housing and non-housing related grants and charities, as well as individuals in need. We are always looking for as many hands as possible to accomplish our goals. If you want to learn more about how you can help or if you would like to volunteer your time assisting us for any of our upcoming events, please let us know.
Rhode Island disburses quarterly grants
The REALTOR® Foundation: Rhode Island disburses quarterly grants each year to non-profit, 501c3 organizations that enhance the quality of life within our communities. Quarterly grant applications are due on February 15th, May 15th, August 15th and November 15th.
NEWS & EVENTS
REALTOR® Foundation: Rhode Island Announces Latest Grant Recipients
Warwick, RI — March 29, 2023 – The Realtor Foundation: Rhode Island, the charitable arm of the Rhode Island Association of Realtors, awarded $5000 in grants to four local nonprofits as a part of the Foundation's first-quarter grant cycle. The four recipients join 39 other non-profit recipients which have received Foundation:Rhode Island funds to help further their mission of helping the citizens in Rhode Island's communities.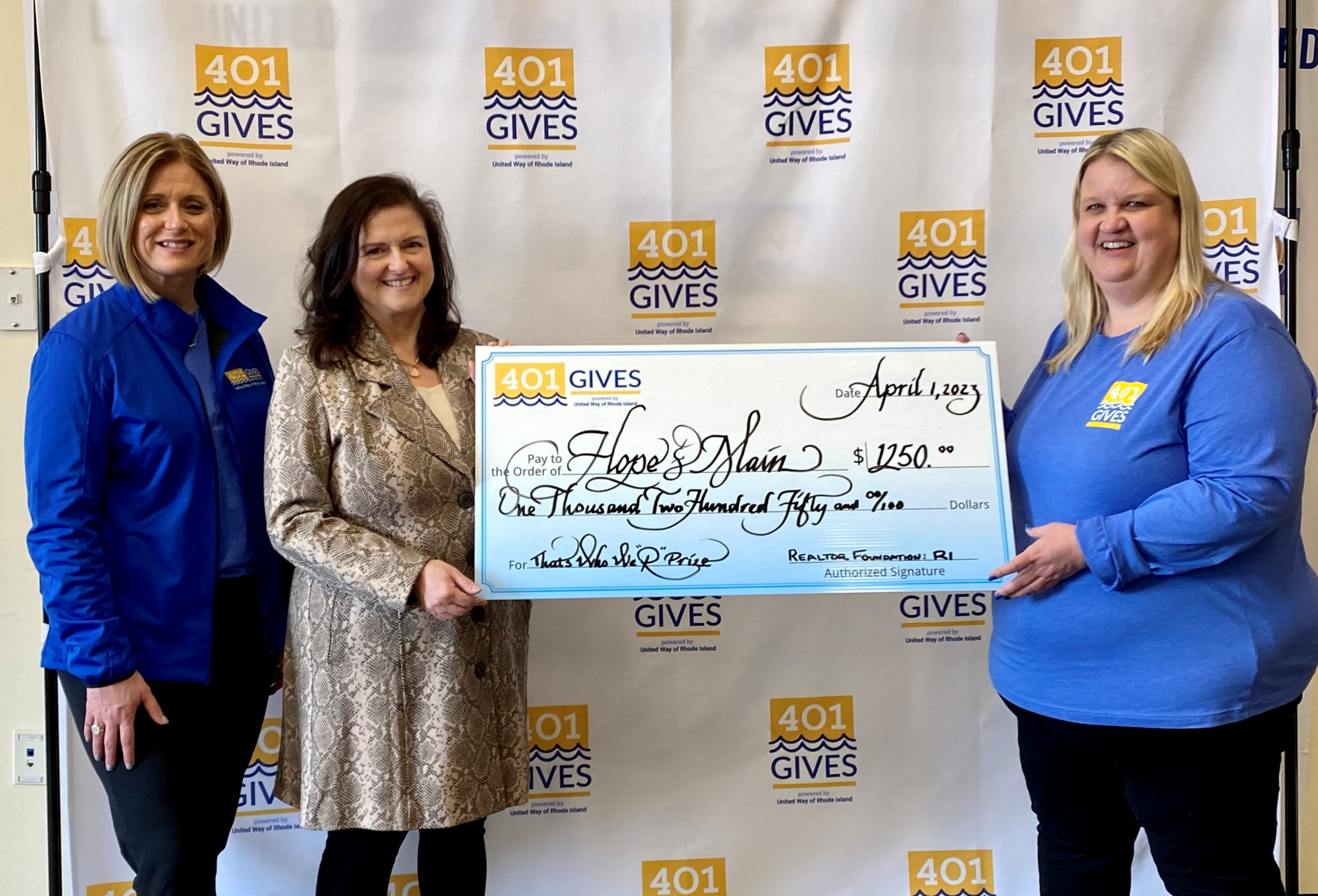 Congratulations to our "That's Who We R" prize winner!
On behalf of the REALTOR Foundation: RI, President Annie Becker presented the Foundation's "That's Who We R" prize to Hope & Main during this year's statewide 401Gives charity drive. The Foundation was proud to support the United Way's 401Gives initiative as a $1250 prize sponsor to help encourage philanthropy in the Ocean State.
Hope & Main is Rhode Island's first culinary business incubator and a proud 501c3 nonprofit organization whose mission is to help local entrepreneurs jump-start early-stage food companies and food-related businesses by providing low cost, low-risk access to shared-use commercial kitchens and other industry-specific technical resources. Congratulations Hope & Main!